Main Menu:
Beef
Knotty Pine Steaks are hand cut daily from only the finest Midwest beef

RARE: Red Cool Center
MEDIUM RARE: Red Warm Center
MEDIUM: Pink Hot Center
MEDIUM WELL: Cooked Throughout
WELL: May we suggest chicken!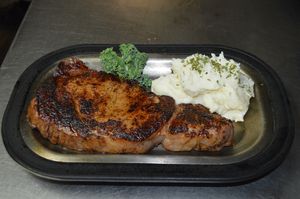 Ribeye
Best Marbled Cut, Making it Flavorful & Tender 12oz.....$22.95     18oz.....$29.95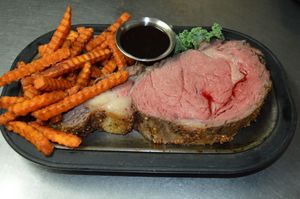 Prime Rib (Fri. & Sat.)
Slow Roasted, Hand Carved & Served with Au Jus 10 oz......$21.95    14oz.....$26.95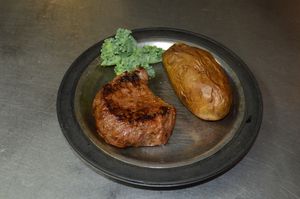 Top Sirloin
Firm Texture & Full-Bodied Flavor 6oz.....$14.95     10oz.....$18.95
Filet Mignon
Our Most Tender Bacon Wrapped Beef Queen (8oz.).....$23.95     King (11oz.).....$27.95
T-Bone
Fave to Many Steak Connoisseurs 20oz.
27.95
Hamburger Steak
Ground Fresh From our Steak Trimmings 12oz.
14.95
Seafood
Walleye Filet
Served Breaded or Broiled 8oz.
18.95
Poorman's Lobster
Center Cut Cod Loin, Serviced w/ Drawn Butter 8oz.
16.95
Shrimp
6 Jumbo Shrimp Served: Breaded, Broiled, Scampi or 8 Stuffed Shrimp: Seasoned w/ Bread Crumbs, Crab Meat, Herbs & Red Bell Peppers
17.95
*Add 3 Shrimp to Any Entree......
6.50
Chicken
Chicken & Ribs
1/2 Rack Ribs & 2 pc. Chicken
18.95
Broasted Chicken
1/4 Chicken.....$10.95     1/2 Chicken.....$13.95
Breaded Tenders
4 Breaded Strips of Breast Meat
13.95
Grilled Chicken Breast
8 oz. Boneless Breast w/ Lemon Pepper, Bourbon Glaze, or Western BBQ
15.95
Pork
Tenderloin Filet
Bacon Wrapped Pork Filet 8oz.
15.95
Center Cut Pork
1 Pork Chop (8oz.).....$13.95     2 Pork Chops (16 oz.).....$17.95
Barbequed Ribs
Slow Cooked, Tender & Delicious-Then Covered with our Famous Recipe Sauce
1/2 Rack.....$15.95     Full Rack.....$19.95